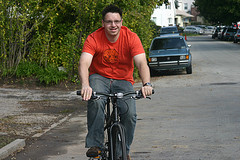 Since everyone around here seems to be biking these days I decided to pony up some cash and get myself a new bike. In September, I was able to try out Sarah's cyclocross bike at the Jersey shore. It was comfy compared to 'Donkey'. However, the problem with that style of bike, for me anyway, is having my weight on my arms for hours on end. I needed something a little more upright with just as much style.
After a peek in the Trek and Cannondale catalogues it was lust at first sight when I saw the Cannondale Bad Boy Disc. This is a hybrid based off mountain bike technology, with fantastic styling. It's quite flexible so it can take road and offroad wheels (for a little extra). With a little help from the folks at Human Zoom in Ardmore, PA I parted with my cash.
It took them a little while to get the bike from Cannondale, but it arrived last Wednesday. Quite an impressive beast it is - the catalogue photos don't do it justice. After a few days riding I'm really impressed. I'll post an update when I have some proper mileage on it.
Tagged with bike, cannondale and cycling.