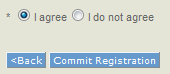 Microsoft and many other technology companies manage their cer­ti­fi­ca­tion programmes through Prometric. I was reg­is­ter­ing for an exam today and noticed that they ask you to 'commit reg­is­tra­tion' as opposed to just reg­is­ter­ing.
Little things like this really annoy me, I'm sure that some developer thought this was cool.
Tagged with usability.